ALIPAC NOTE: Call 202-224-3041 to let US Senator Marco Rubio (R-FL) know that you do not approve of him planning amnesty for illegal aliens with Democrats!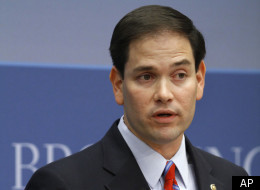 Sen. Marco Rubio (R-Fla.) speaks about foreign policy April 25 at the Brookings Institution.
WASHINGTON -- In a sign that Democrats may consider getting on board with Sen. Marco Rubio's Dream Act-style legislation, three leading Latino members of Congress plan to meet with Rubio Wednesday afternoon.
Sen. Robert Menendez (D-N.J.) and Reps. Charles Gonzalez (D-Texas) and Luis Gutierrez (D-Ill.) will meet with Rubio (R-Fla.) around 3 p.m. to hear more about his plan, a senior Democratic aide told HuffPost. The aide spoke on condition of anonymity because the members of Congress had agreed not to publicize the meeting.
Posted: 04/25/2012
Huffington Post
Under discussion will be Rubio's "Dream Act," a term appropriated from a long-standing bill supported by Democrats. Both bills would be aimed at undocumented immigrants who entered the United States as children, and would allow some to stay if they kept a clean criminal record and joined the military or attended college.
Menendez, Gonzalez and Gutierrez all support the Dream Act that passed the House in 2010 but was defeated in the Senate 55-41, with three Republicans supporting and five Democrats defecting to vote against the measure.
But that bill, which was initially introduced more than a decade ago with bipartisan support, has become politicized as "amnesty" because it would allow some undocumented young people to receive green cards and possibly citizenship if they completed government requirements.
Republican presidential candidate Mitt Romney, whom Rubio endorsed, said in December that he would veto that Dream Act. Romney said Monday that Rubio's bill has "many features to commend it," but that he will need to see more details before giving full support.
Rubio's framework -- he has not yet introduced a bill -- would not provide a path to permanent residency or eventual citizenship, which immigrant rights groups said would undercut the purpose of the Democrat-supported Dream Act.
Of course, holding a meeting doesn't necessarily mean the members of Congress would sign on to Rubio's bill.
Grijalva told MSNBC last week that Rubio's plan would create a "second class" because it would allow some undocumented immigrants to stay, but with few options for ever becoming citizens.
Earlier on Wednesday, Gutierrez did not comment on whether there would be a meeting but told HuffPost he had two questions about the Rubio legislation: whether it would stop deportation of those young people and whether it could pass.
"Most importantly, does he have 10 Republican senators?" Gutierrez said. "We know we got 55 the last time, do you have another 10?"
UPDATE:
7:15 p.m. - Gutierrez said in an email that he left the meeting "feeling optimistic" that Rubio and Democrats will continue to talk, adding that details of the senator's plan are fluid.
"Look, I want to halt the deportation of immigrant families and youth with deep roots in the U.S. and I at least want to talk to people who have a similar goal," he wrote. "The big question that remains unanswered is how Senator Rubio's proposal helps build support among Republicans in the House who oppose immigration reform."
A spokesman for Rubio declined to comment, calling it a "private meeting."
Marco Rubio To Meet With Latino Democrats On Dream Act