Montgomery trio pleads guilty to creating fake IDs for illegals
Two face possible deportation
Three Montgomery residents pleaded guilty this week to their role in a scheme in which they stole people's personal identification from a federal system to create illegal documents for undocumented workers in exchange for money.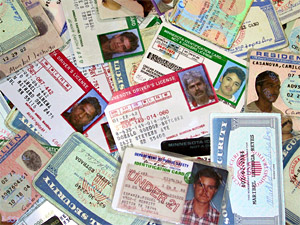 Fake IDs Photo courtesy of Immigration and Customs Enforcement
Noemi Vasquez, Raul Castro-Morales and Wilfredo Cheverria-Funez pleaded guilty in federal court Tuesday to aggravated identity theft, illegal production of an identification card and counterfeiting a Social Security card, according to the office of U.S. Attorney George Beck of the Middle District of Alabama.
December 6, 2013
Written by Sebastian Kitchen
Montgomery Adviser
They face sentences of two to 15 years in federal prison, a fine of not more than $250,000, restitution payments to the victims and up to five years of supervised release.
Cheverria-Funez and Castro-Morales also face deportation after serving their sentences.
Vasquez worked at a company that used the federal E-Verify system, which allows employers to check whether a prospective employee is eligible to work in the United States, in January of 2012. She accessed the E-Verify system to obtain information about Hispanic men, including their name, citizenship status, date of birth and place of birth.
Vasquez would find the E-Verify report of a person with a similar height, weight and age as an undocumented person seeking employment. She would sell the E-Verify report to the undocumented worker for $300 and give him the contact information of Cheverria-Funez to obtain the illegal identification documents. Cheverria-Funez, in turn, introduced those undocumented people to Castro-Morales, who would create false Social Security and identification cards for an additional fee.