The latest ad focuses on Obamacare and
how it will affect the Latino community
In a press release Obama claims the law will
bring health care coverage to "up to 9 million previously uninsured Hispanics
by 2014."
Obama Campaign Launches Health-Care Ads Aimed At Latinos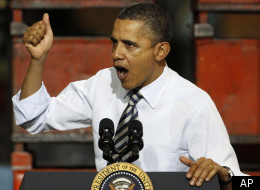 The Huffington Post | By Dave Jamieson Posted: 05/08/2012 1:24 pm Updated: 05/08/2012 1:27 pm
The Obama campaign rolled out its second batch in a series of TV and radio advertisements aimed at Latinos Tuesday, hoping to burnish the president's reputation among a crucial demographic of voters in 2012.

The latest handful of ads focuses on the president's most significant and controversial legislative accomplishment -- the passage of the Affordable Care Act, known as Obamacare -- and how it will affect the Latino community (assuming the Supreme Court doesn't strike it down, in whole or in part, come June). In a press release explaining the ads, the Obama campaign claims the law will bring health care coverage to "up to 9 million previously uninsured Hispanics by 2014."
The Spanish-language ads, which are set to air in Colorado, Nevada and Florida, include Latino volunteers and supporters of the Obama campaign talking personally about what health-care reform means to them. The ads end with the tagline "Estamos Unidos."
The campaign for Mitt Romney, the presumptive GOP nominee, has tried to drive a wedge between Obama and Latino voters by highlighting the weak job numbers that have disproportionately affected Latinos, who have suffered unemployment and poverty rates higher than the general population's. More than 10 percent of Latinos are still unemployed and roughly 1 in 4 are beneath the federal poverty line.
After the Romney campaign released grim information on Latinos and poverty last month, the Obama campaign responded by saying the president's policies helped decrease unemployment among Latinos by 2.1 percent. Two-thirds of Latino voters supported Obama over GOP nominee Sen. John McCain in 2008, and Romney is trailing Obama among Latinos, according to polling by Univision. Romney has been hobbled by his previously hard stance on the Dream Act, which would grant legal status to a relatively small portion of undocumented immigrants.
The health care-focused ads launched Tuesday come on the heels of another batch highlighting the Obama administration's efforts on education and how they've affected Latinos. Along with the Spanish-language ads, the campaign has launched an initiative called Latinos for Obama, which the campaign described as "the largest ever national effort to engage Latino Americans in their communities and involve them in the upcoming election through voter registration, volunteering and voting."