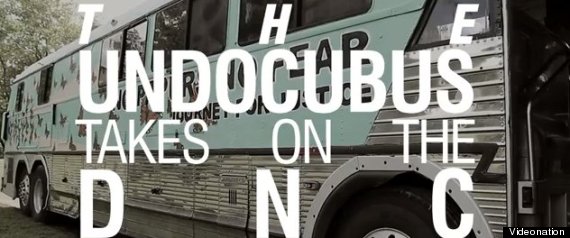 CHARLOTTE, N.C. -- Fernando Lopez, an illegal immigrant from Phoenix, rode more than 2,000 miles through 11 states on a 40-year-old bus that broke down twice to deliver a message to the Democratic National Convention:
President Barack Obama hasn't done enough to help the millions of people in the United States illegally, people he said could benefit the country if given a route to citizenship.
"We have had enough," said Lopez, one of seven illegal immigrants from Arizona who traveled here aboard the so-called Undocu-bus. About 40 bus riders took part in a mass demonstration Sunday that brought together members of the Occupy Wall Street movement, gay rights groups and immigrant-rights organizations.
by Natasha Khan, Cronkite News Service
Posted on September 3, 2012 at 2:56 PM
Lopez took to the podium at Charlotte's Frazier Park in front of a crowd of hundreds to chant, "No papers, no fear."
The crowd responded in a cacophonous, "Obama escuchas estamos en la lucha!" which means "Obama, listen: We are here to fight!"
The platform at the Democratic National convention will be announced Tuesday. There has been media speculation about whether or not it will include a stance on the DREAM Act, a piece of federal legislation that, if passed, would grant many undocumented youths permanent residency.
The Undocu-bus riders from Arizona wore brightly painted cardboard monarch butterflies, the group's symbol because it migrates throughout North America. They wore shirts that said, "We are reconstruction workers" and held signs that read "Undocumented, Unafraid and Unashamed."
Some Arizona riders said they were upset over increased deportations under Obama and criticized the president's new two-year deferral program that grants some undocumented youth work permits, saying it was his way of stalling on comprehensive immigration reform.
Among their complaints: Not all young people are eligible, such as those lacking birth certificates and high school diplomas.
"I don't think it's fair," said Maria Cruz, an illegal immigrant and mother of three from Phoenix. "I'm waiting for him to give freedom to all youth."
Cruz, wearing a homemade felt butterfly pin and orange cardboard butterfly wings, said she was inspired to ride the bus after her children were arrested protesting against Maricopa County Sheriff Joe Arpaio.
"That gave me the courage and strength to fight for dignity," she said.
Arpaio is currently the subject of a Department of Justice investigation and numerous civil lawsuits accusing him of racial profiling.
Cruz also said that illegal immigrants are not a burden on society.
"We pay taxes … we don't take anything for free and everyone benefits from our labor," she said.
Miguel Guerra, a rider who said he was arrested for civil disobedience before the bus took off in Phoenix, rode the bus to tell undocumented people "not to be afraid" and to get a "clear answer" from Obama on immigration.
"What side are you on, Obama?" he said.
While the message of the day was for the Obama administration to make a decision on immigration, Leticia Ramirez, a rider from Phoenix, had another concern.
"What if Romney wins?" she said.
She said she doesn't agree with Obama's current immigration policy but that he is capable of doing more to help the undocumented community.
"I have the confidence that I am headed back home to Arizona to see my kids, but I want Obama to stop separating families," she said.