Houston (CBS HOUSTON) –
Sen. Ted Cruz, R-Texas, has joined Texas Gov. Rick Perry in calling on President Barack Obama to visit the Mexican border personally, with Cruz sending Obama actual directions to the border from the president's planned fundraiser stops in Austin and Dallas.

Cruz took to Twitter to invite Obama to take a look at the border itself amid a growing immigration crisis along the southern border with Mexico.

"If President Obama wants to have a real border meeting with @GovernorPerry, here are a couple suggested detours," Cruz tweeted on Tuesday.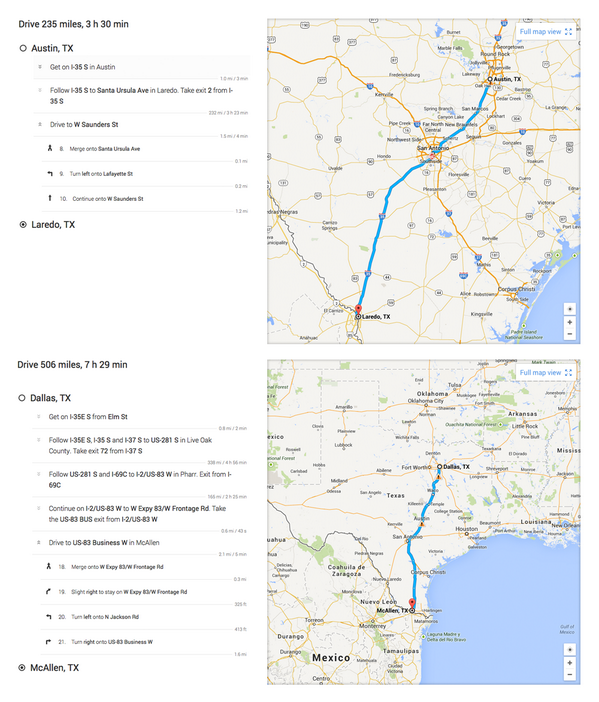 The maps show driving routes from Austin to the border town of Laredo (235 miles, 3 hours) and Dallas to border town McAllen (506 miles, 7 hours and 29 minutes).
Perry also took to Twitter last week to invite President Obama to the border.
July 9, 2014
"@BarackObama: While in TX next week, I invite you to tour the border with me to see firsthand what is happening there. CC: @WhiteHouse," tweeted Perry.
This comes after Perry rejected a handshake from Obama in exchange for a meeting to discuss the border crisis through a more "thoughtful discussion." Obama is expected to attend Democratic fundraisers in Dallas and Austin, but no plans of visiting the border.
"I appreciate the offer to greet you at Austin-Bergstrom Airport, but a quick handshake on the tarmac will not allow for a thoughtful discussion regarding the humanitarian and national security crises enveloping the Austin-Bergstrom Airport,in South Texas," Perry wrote in a letter to Obama. "I would instead offer to meet with you at any time during your visit to Texas for a substantive meeting to discuss this critical issue."
Perry will meet with Obama, though, in Dallas to discuss the crisis in a meeting involving faith and local leaders.
Earlier this week, Perry criticized Obama's seeming lack of urgency on the border crisis: "I have to believe that when you do not respond in any way, that you are either inept, or you have some ulterior motive of which you are functioning from," Perry said on ABC's "This Week."